What better way to ring in the new year than to introduce something that will change, I mean, REVOLUTIONIZE the way you get feedback from your team. It's our resolution of revolution! After many months of research, development, and testing, we are here to show you a little something we like to call the Quality of Work Life Index.
VibeCatch has teamed up with Dr. Marko Kesti, a professor in HRM-Performance, as well as an EVP at Mcompetence, providing tools and services for organization employee performance development. Together, we have created a unique polling system that offers you an incredible amount of insight and instruction. What we mean by "instruction," is that our QWL report will show you exactly where your organization's culture can improve and how.
We could bore you to death with an in-depth analysis of the inner workings of our QWL index, however, let's speak in plain English for now. :)
We start by using predefined statements and questions (so that you don't have to figure it out yourself) to get feedback from your team members in five categories: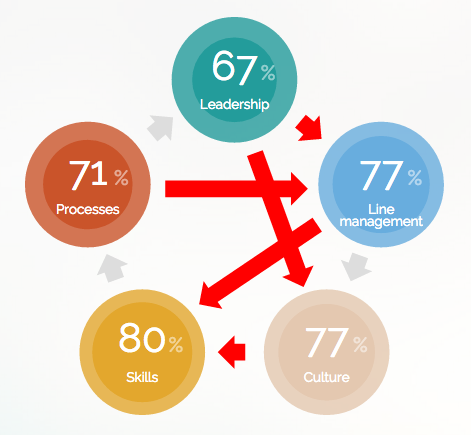 Once we gather the feedback, we score you in each category as well as overall in your organization. Using an interactive report, you'll be able to dive into each category further and understand how each affect one another and what exactly you can do to improve.
For example, Leadership as a direct effect on Culture. In this interactive example, you can see that we give you very simple instructions.
"Make sure that management policies (communication etc.) support the development of a healthy team spirit within the organization. Make sure that employees feel that leadership cares about their wellbeing."
You might be wondering how we can come up with this specific conclusion. All of our insights are the result of years of research and testing, which has provided us with historically proven insights that should be used to improve company culture in all organizations large and small.
Our goal at VibeCatch is to make your life easier not just with a great product, but also with great data and insights. We are so excited to launch our Quality of Work Life index. Book a free consulting session with us, and one of our success managers will be happy to review with you at any time.