For the most part, we speak at a high level regarding the importance of employee engagement and human capital management. We've discussed everything from how it plays an important role in your company's culture as well as how it affects your profit margins per employee. However, we haven't really dug deep into the science behind this, which is the core of VibeCatch's flagship product, the Quality of Work Life Index (QWL).
Human capital management fiscal effects are two folded:
Cost savings
Increased profits
In a nutshell, we are saying that better management of your team will create more efficiencies that lead to better productivity. This drastic improvement will save your company money for a number of reasons that include things like time, and we all know that time has cost attached to it. With the cut down on time through improving various processes and creating better culture overall, companies will see improvements in profit margins as high as 25% per employee.
Other things to measure:
Absence and staff turnover
When employees are on leave, unable to work for any reason, or quit, this obviously has an impact on productivity. Other team members are called up to fill in the gaps and pick up the slack. During these situations, better work efficiency is difficult but still possible. One of the most important things here is getting information from your staff, through our QWL platform, which is a scorecard for employee performance.
This QWL is measured via a staff survey that analyzes the employee data using validated scientific methodology. An "Improved QWL" means that the result is better staff performance overall, which can be utilized either by increasing revenue and profit, or simply by being able to reduce staff size which of course becomes huge cost savings for any organization. However, it's not so simple. The right decisions need to be made, and staff reduction might also cause the QWL to decrease.
In most cases, the cost savings potential is only about 1/10th of the profit increase potential from QWL improvement. For example, a company can gain $200/FTE in profit through cost savings, but with QWL improvement, the profit can be increased by $2,000/FTE simply because of the revenue increase. All in all, concentrating only on cost savings will not necessarily lead to substantial increases in revenue.
Okay HR nerds, the effects can be analyzed by using this human capital production function:
R = HRBR * L * TWh * (1 - Ax) * QWL
where....
R = Revenue [$]
HRBR = Coefficient for effective working time revenue relation, HR business ratio [$/h]
L = Labor capacity in full-time equivalent [pcs]
TWh = Theoretical yearly working time [h]
QWL = quality of working life, indicating human capital intangible asset utilization (0–100%)
Ax = The auxiliary working time of the total theoretical working time (e.g., vacation, absence, family leave, orientation, training, HR practices, and HRD) [%]
(1 - Ax) = (100% - Ax) = Time available for actual work (time spent at work)
(1 - Ax) * QWL = Effective working time from the theoretical working time
And operating profit from this equation:
EBITDA = Revenue – Variable Costs – Staff Costs – Other Fixed Costs
The next figure illustrates the human capital production function with a 20 person team. By improving the Quality of Working Life, the team makes $4,000 more EBITDA per team member. Using practical case studies, we have achieved this level of improvement and profit increase.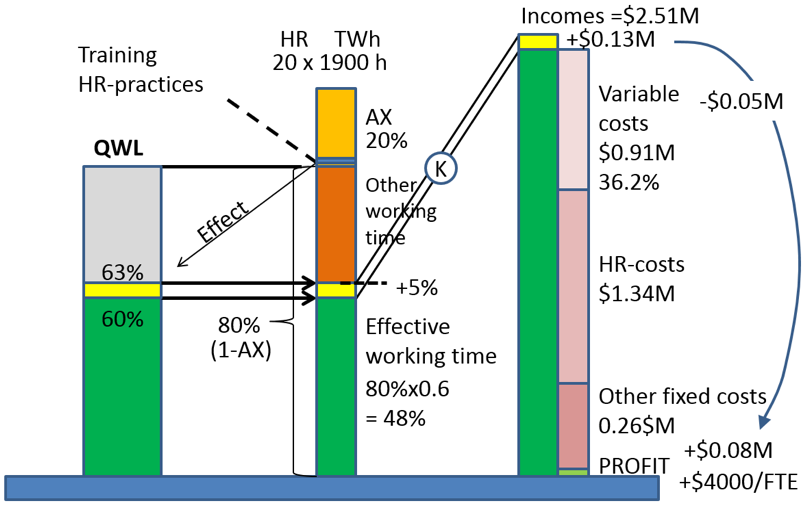 Figure. Team level productivity improvement.
Quality of Working Life is a production parameter that determines the effective working time share, or in other words, the percentage of work that creates value. For example, if your QWL index is 59%, it means that 59% of the time people spend at work creates value and the remaining 41% is wasted due to various poor processes, communication, motivation, or other. The calculation of revenue is made by the staff effective working time. Improving QWL requires investment at working time which reduces the time for work. However, if the QWL improvement is effective, it is possible to increase the effective working time's absolute value.
Questions? We've got answers. Request a demo and let's chat!