Company culture is crucial as it affects almost every aspect of a business.
From recruiting new talent to achieving ongoing employee satisfaction, a healthy workplace culture serves as a catalyst for a company's success.
In fact, without a strong company culture, many employees will struggle to feel welcome and find real value in their work. This may lead to a variety of negative consequences that can hinder you from achieving your overall business goals.
In this article, we'll discuss the importance of having a winning company culture and how to improve culture in the workplace.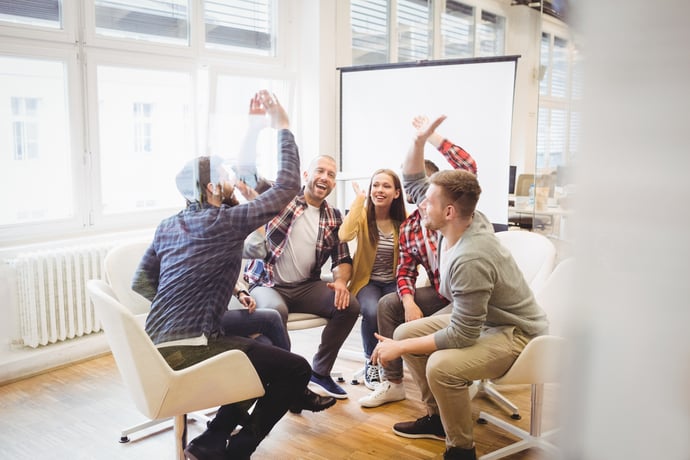 What makes a good company culture?
Team members are the heart of any organisation.
You may have the processes and resources to undertake your daily operations, but your employees will always be the embodiment of your business' mission statement. So, while every organisation has its own unique culture, it's important for leaders to build a culture that's genuine and meaningful for employees.
Once you have developed a great organisational culture, you will be able to work towards both the team's and the company's overall growth.
5 reasons why a good company culture is important
Failing to cultivate a great company culture can be detrimental to your business' success.
This is because company culture impacts your employees' happiness, wellbeing, job satisfaction and overall performance levels.
To see how, here are the 5 benefits of having a healthy company culture:
Increased employee engagement

Companies with a healthy workplace culture have 72% higher employee engagement ratings than those that don't.

A work environment that has an inspiring organisational culture is driven by purpose and clear expectations, motivating them to be more engaged in their work duties and interactions with others.
Elevated productivity

Your organisational culture has a lot to do with your employees' satisfaction and engagement. Satisfied employees are known to be 12% more productive, while dissatisfied employees are 10% less productive.

It's also important to note that having a healthy workplace culture brings people of the same skillsets together. Those who share similar backgrounds and capabilities can work more effectively together when finishing business projects.
Low staff turnover

Team members who feel valued and respected are less likely to leave. That's why companies need to foster a winning organisational culture that supports their core values and mission statement.

A company's culture is a key factor for 65% of employees

when deciding to stay at their job. The more satisfied your employees are, the lesser turnover your company will experience – saving you time and money by avoiding the ongoing rehiring process.

Keep top performers

Companies that have a conducive company culture are more likely to retain their best employees.

Team members who are great at their jobs and know the value of their skills commonly leave negative work environments when they feel undermined and unappreciated. On the other hand, healthy company culture builds a high-performance culture that strengthens the work of people within the company, resulting in a positive employee experience overall.
Reduced employee stress

A winning company culture will help significantly reduce workplace stress

. Companies with a strong corporate culture tend to see less stressed employees, which helps boost both employee health and work performance – leaving them more engaged, happier and satisfied.
So, how does your business identify and nurture a strong culture to reap these benefits?
Achieve these benefits of having a good company culture with Vibecatch
In the digital age, data is king, and regularly measuring your employee engagement and wellbeing levels equips you with valuable insights that can enhance your recruitment and employee retention efforts.
At VibeCatch, we've built a powerful platform that enables you to take advantage of scientific-based listening to assist you in learning more about the ever-changing workforce.  
We harness the power of open communication and employee feedback, so you can empower your people to stay committed to working together with you. 
VibeCatch is an HR platform based on 15 years of proven research, offering you the opportunity to make a genuine difference and understand the impact that your working environment has on your staff.    
   
Through VibeCatch's QWL Polls, Pulse Polls and 360 Feedback Polls, you can uncover hidden staffing opportunities, correct issues and address areas of improvement for both employees and management within your organisation.  
Speak to our team today to see a live demo.