Like flowers that are nurtured with attention and care, employees bloom when they are acknowledged and appreciated.
Employees are human and it's crucial to never forget this.
Their recognition is an important aspect of internal engagement as it shows how you value your staff's contribution, performance, attitude and effort towards the accomplishment of your company's goals.
Now that the year is coming to a close, you have the perfect opportunity to recognise your employees for all the hard work they did, especially during this year. 2020 has been a challenge but your teams have worked hard to keep things running, despite everything.
So, if you're looking for the best ways to give employee recognition, we've prepared some useful tips to help you!
Why is employee recognition important?
Do you know what successful companies have in common? Motivated and engaged employees.
Having the most skilful, competent and well-trained workers is great. But if they don't feel happy, inspired and passionate about their jobs, they will still lack the motivation to deliver the best results for you.
This is where employee recognition comes in.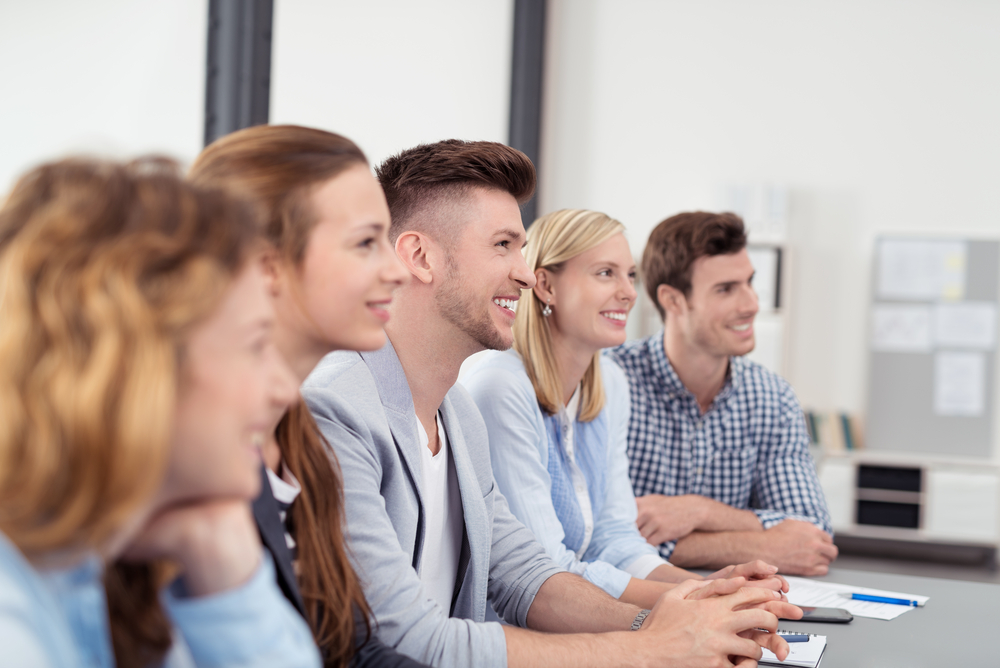 Employee recognition boosts your staff's motivation and enhances their overall experience within your company. Through it, you can foster loyalty and effective collaboration. In addition, when you give people praise, gratitude and appreciation, they also feel more respected. As a result, they will strive to make a more positive impact on your business.
Employee recognition doesn't have to be a grand gesture - but it should be personalised.
To make employees feel highly valued for what they do, being sincere and consistent in providing affirmations is the way to go. Here are some approaches your HR and management team can employ to provide genuine employee recognition that will be appreciated.
Top 7 ways to recognise your employees
Whether you spend money on employee recognition or not, what matters most is how it reflects your overall organisational culture.
Celebrate milestones.
The smallest gestures can create the biggest impact. Showing that you remember life events like birthdays and work anniversaries means you genuinely pay attention to your employees. Another thing you can do is recognise top-performing employees every month, quarter or year.
Give bonuses or gifts

.
Allowing employees to enjoy a bit of extra pay is an indication that you appreciate the hard work they've committed to your business. You can also give them gifts or branded items like mugs, journals, pens and clothing so that they can proudly show off that they're part of your company. Treating the whole team to a lunch or dinner is a good way to boost morale, as well!
Send personalised messages.
Taking the time to write letters of gratitude enables you to show your sincerity towards your employees. By recognising their exemplary effort and appreciating their presence in the company, personalised messages can also be a great way to strengthen your relationship with them. Perhaps surprise them with an SMS to make it less formal, but very personal.
Put up a recognition wall
Did you know that a major motivator for employees is to be held in high esteem by their own colleagues?
So, putting up a public recognition wall is an effective way for them to be recognised - not just by management, but also by the people they work with. This can also inspire other workers to do their best and be acknowledged next for an excellent job.
Facilitate social media recognition.
Everyone uses social media nowadays. That's why it's a good place to brag about your employees' outstanding performances.
By posting on LinkedIn or on your company's Facebook page, you can highlight that your business has the best staff who help provide excellent service to customers. It's definitely a winning situation for everyone!
Organise team-building activities and outings.
A little breather can help your team recharge amidst all the chaos. Aside from giving them the break they deserve, team building activities and outings are a great way to nurture their bond with each other.
Provide them with a platform where they can be heard.
One of the biggest rewards you can provide your employees with is giving them the freedom to share their thoughts, suggestions and concerns. By providing them with a platform to easily communicate with you, they'll feel more acknowledged and of value to the business.
With solutions like VibeCatch, it's easier for companies like yours to communicate with employees and gather insights that can help them be more engaged – both today and into the future.
How can VibeCatch help you?
In this digital age, where data is king, there is an opportunity for you to measure employee engagement, performance and well-being easily.
By collecting valuable insights from your workers through one powerful platform, you'll be able to learn how you can improve your company and its operations.
To do this effectively, it's important to use active, scientific-based listening and learning of your internal workforce to yield better (and trackable) results – this is how VibeCatch can help you.
What is VibeCatch? 
VibeCatch is an HR platform based on 15 years of proven research, offering you the opportunity to make a difference and prove the impact that you know you make every single day for the people around you. 

Through VibeCatch's QWL Polls, Pulse Polls and 360 Feedback Polls, you can uncover hidden opportunities, correct issues and address areas of improvement for both employees and management. 
This time, you in the HR department will be able to work based on reliable information and you can now have a tangible Return on Investment (ROI) to present to management. 
Speak to our team today and we can take you through a live demo.